TruCheck USB Series - Data Matrix Barcode Verification
Specification Conformation
MIL-STD 130N
ISO 16022
ISO 15415
AIQG AS9132
AIM-DPM

Meets UID (Unique Identification) DOD Requirements

ISO or AIM Verification
Fixed optics, no operator adjustments
Easy to use, hands-free operation

Model 401 Quality Measurements Include:

Unused Error Correction
Modulation
Axial non-uniformity
Grid non-uniformity
Symbol Contrast
Bar width growth (X and Y)
Reference decode
Finder pattern damage
Application:
TruCheck™ 401 and TruCheck USB barcode verifier conforms to MIL-STD 130N and meet system grading requirements according to all of the following specifications: ISO 16022, ISO 15415, AIQG AS9132. or AIM-DPM. TruCheck works on labels, nameplates, and direct parts marks.
TruCheck is calibrated with standards that are NIST traceable. Optionally, it can also be used for linear and 2D (PDF417 and Code 39) verification with the addition of the TruSweep laser scanning head.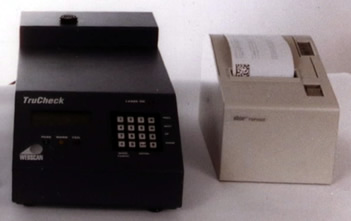 Product Information/Reporting:
TruCheck is simply the most accurate bar code verifier on the market! If you are tired of the inconsistent results that hand-held verifiers produce, TruCheck is the system for you!
Engineered for repeatability, the TruMatrix imaging head, combined with integrated 45 degree or combination 30/45/90 degree illumination in a rugged housing, provides ideal conditions for verification with the CCD-based imager. After simple calibration, there is nothing to focus or align. You are guaranteed the most accurate and stable verification results available. TruMatrix eliminates operator variables resulting in accurate results.
Optional linear verification can be accomplished by expanding TruCheck with the TruSweep laser scanning head for linear and 2D (PDF417 & Code 39) verification. With the touch of a button, the TruSweep head automatically provides multiple scans from top to bottom on the code.